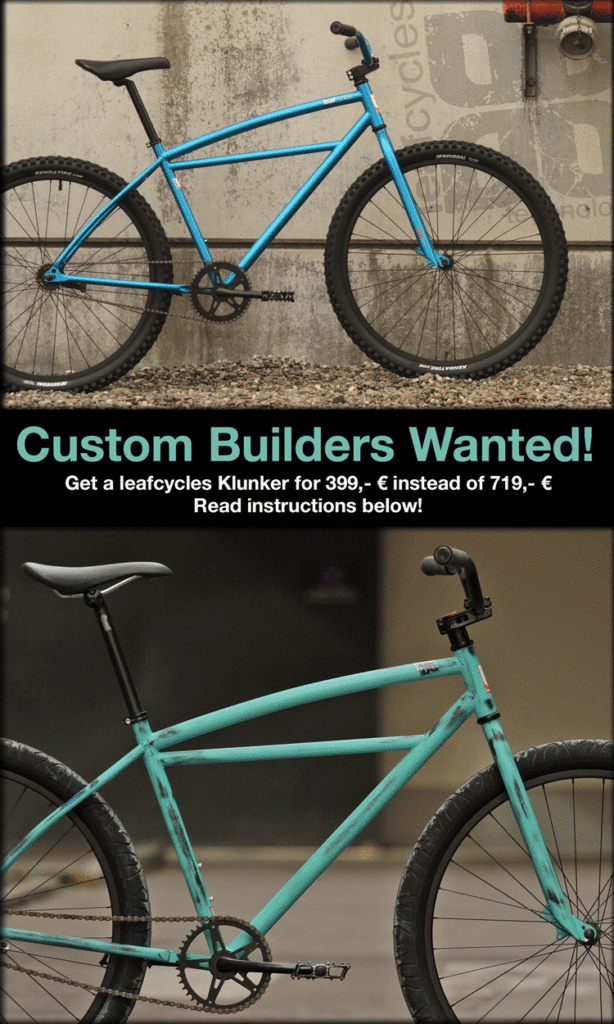 Ever wanted a punk looking klunker? Well, here's your chance. We are looking for klunker pilots who can turn a Leafcycles stock klunker into something cool.
Give the bike a special paintjob, pimp it with noble parts or build in a real gasoline engine. Anything goes.
Conditions of participation:
Describe us in a short email how you would "pimp" your klunker. If your idea convinces us, you can get an original Leafcycles klunker for the price of 399,- € (plus shipping) instead of 719,- €.
Shipping to a company address: Germany (35,- €) | Austria (55,- €) | Poland (60,- €)
Shipping to a private address: Germany (50,- €) | Austria (69,- €) | Poland (75,- €)
E-mail to: info@leafcycles.eu
Subject: Custom Klunker
As soon as the bike is delivered you have 4 months to put your words into action. Afterwards take a nice photo of your result and upload it on Instagram with the hashtag #leafcyclesklunkerpilot.
The delivery of the bikes will start at the end of October. Applicants from Germany, Austria, Poland, France and the Netherlands can participate. A total of 30 bikes will be made available for this promotion. The closing date for applications is 29 October 2022.